Fresh Figs
by Mandi Johnson, Associate Director of Community Engagement & Food Hobbyist
Inspired by Food Network's, The Best Thing I Ever Ate, where celebrity chefs tell you their favorites from around the world, I decided to start a series I am calling The Best Thing I Never Ate (and yes, the grammatical inconsistency is killing me but "The Best Thing I've Never Eaten" just doesn't have the same ring to it).  A couple of times a month I will select a food/ingredient I have never eaten before and will prepare it.  I'll be blogging about these kitchen adventures here and will also be posting them to our Instagram.
I moved to a cozy little place back in October so this is my first summer here and I've learned a few things:  (1) my back patio doesn't get enough sun for my tomatoes, cucumbers, and peppers to grow; (2) extreme heat makes algea grow in the pool; (3) fresh figs are amazing--this one learned thanks to this lovely communal fig tree that is housed in our complex.
Until this point in my life my only experience with the humble fig was in the form of preserves or Newton.  That's it.  I'd never eaten a fresh fig.  One day I plucked one from the tree and popped it in my mouth and was instantly enamoured with the subtle velvety sweetness.  Inspired, I set out to discover all the different ways I could use fresh figs.  I did some research on our food database A to Z World Food (see how I learned from my mistake last time about doing advance research?).
Here's what I learned:  Figs are native to the Middle Eeast and Asia and are one of the oldest cultivated food with documentation of them dating back 10,000 years with their peak season in late summer.  Figs are an excellent source of vitamins and antioxcidents and can be eaten raw, cooked, or dried and they pair well with cheese, vinegar, meats, and their natural sweetness makes them a popular dessert fruit.
Armed with way more information than I ever knew I needed about figs, I decided on four different preparations for my kitchen adventure and invited a fellow-foodie over to join me.

I started with the obvious--the sweet deliciiousness that is a fig newton; named such after Newton, Massachusetts and began mass production  by the New York Biscuit Company--which you might know as Nabisco.  Didn't know you were going to get a history lesson today did ya?  We're a full-service institution over here at Bossier Parish Libraries; that's just how we do.  All the recipes I found used dried figs or fig preserves--which wasn't really what I was looking for.  So I set out to make my own--what can I say, I'm a kitchen renegade.  So without further ado:
Homemade Fig Newtons (or alternatively, Oatmeal Fig Bars if you so desire)
Ingredients
3-4 cups fresh figs, stems removed
1 small/medium lemon
3 cups rolled oats
2 cups all purpose flour
1 1/2 cups packed brown sugar
1 teaspoon baking powder
1/2 teaspoon salt
2 sticks butter, melted (that's right...I said TWO STICKS OF BUTTER)
3 egg whites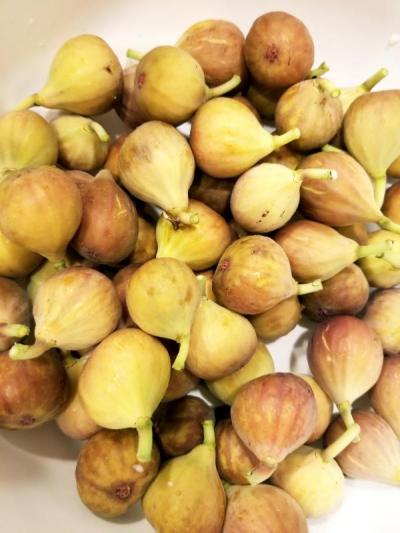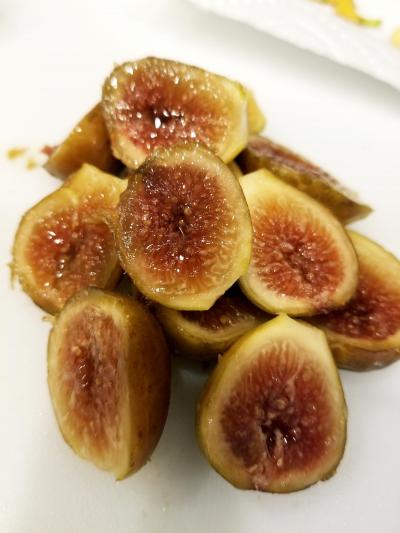 Instructions
Halve the figs in a bowl and squeeze the juice of lemon over them.  Stir to coat.  Set aside.
Preheat oven to 350 degrees.  Spray a 9x13 baking dish with cooking spray.
In a large bowl, stir together oats, flour, brown sugar, baking powder, and salt.
Add melted butter and egg whites to dry ingredients.  Stir until combined.  This will take approximantely 89 years but hey, you'll have pretty impressive biceps and triceps in the end...at least in your stirring arm.
Press half of the oat mixture into the baking dish until the entire bottom is covered.  It should be easy enough without sticking to your fingers but if you have trouble just use some wax paper or do like my granny taught me and just spray some cooking spray on your hands.
Use a slotted spoon to transfer figs to a food processor (leaving the lemon juice behind).  Process until smooth.  Pour fig puree over on top of the oat mixture in the baking dish.
Press the remaining half of the oat mixture over the fig filling.  I couldn't figure out how to do this without squishing the filling out so I just made small balls with the dough and pressed them flat into a "cookie round" and place that on top until the entire top was covered.
Bake for 30-40 minutes until golden brown and cooked through (I did 35 and it was perfect).
Voila...homemade fig newtons.  This makes enough for about a dozen or so depending on how big you cut them...which is a perfect amount because...
These were delicious and well-received here at the office.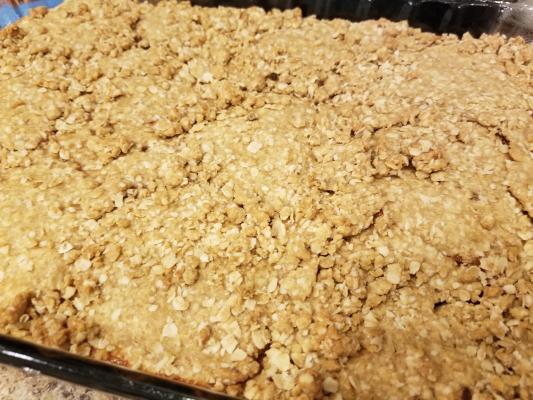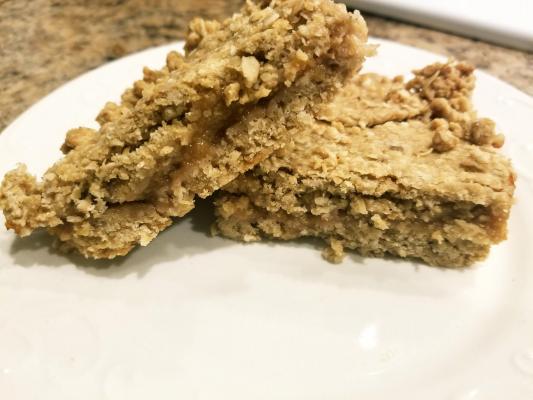 I picked my first batch of figs when my 11-year-old niece was staying with me for a week.  She loves to cook and get creative in the kitchen and she had an idea for a little amuse-bouche (that means "mouth amuser" or a little treat to tingle the tastebuds--it's French).  The plus side was I already had everything in my pantry/fridge to make these so we figured, why not?
Amuse-Bouche Avec Figue
Ingredients
Crackers (we used Ritz)*
Laughing Cow Swiss Cheese triangle*
Honey
Walnut halves
Fig, halved
*I'm not being paid to endorse Ritz or Laughing Cow; although if their people called my people we could discuss their delicous buttery cracker and smooth velvety cheese
Instructions
Build the cracker by spreading some cheese on the cracker (you can probably get 3-4 crackers per triangle).  Drizzle with honey.  Top with walnut and fig half.  The perfect balance of salty and sweet with the rich cheese and the crunch from the walnut.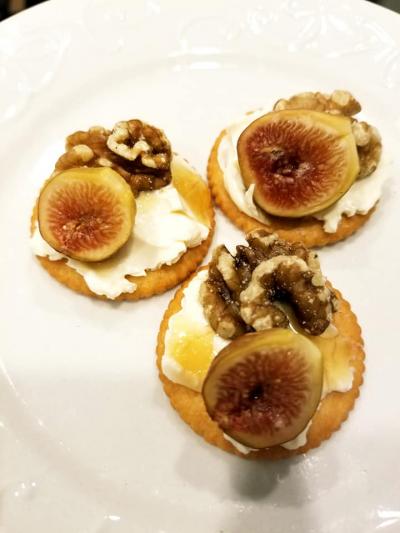 There, now doesn't that look amusing for your mouth?
At this point I wanted to delve into the more savory applications for ye old fig.  Inspired by a couple of menu items I've seen around town, I decided to make a Fig & Pig pizza and a pan-seared pork chop with a red wine and fig reduction (reduction is really just sauce--depends on how fancy you're feeling).
Fig & Pig Pizza
Ingredients
Pizza dough, prepared according to instructions (or you could just be like me and buy the already done dough; I like the thin and crispy)
Olive Oil
Balsamic Vinegar
Prosciutto (which is just thinly sliced dry-cured Italian ham)
Canadian Bacon (for extra flavor--it's like a world tour in pizza form)
Figs, quartered
Asiago & Parmesean cheeses
Parsley (which, let's be honest, tastes like nothing but it sure is pretty)
Instructions
Brush the prepared dough with olive oil.  Drizzle with balsamic vinegar.  Sprinkle with cheese.  Top with thin slices of prosciutto and canadian bacon.  Top with figs (however many you want).  Sprinkle with chopped parsley and more cheese.  Bake according to directions but it will probably be somewhere around 425 for 9 minutes.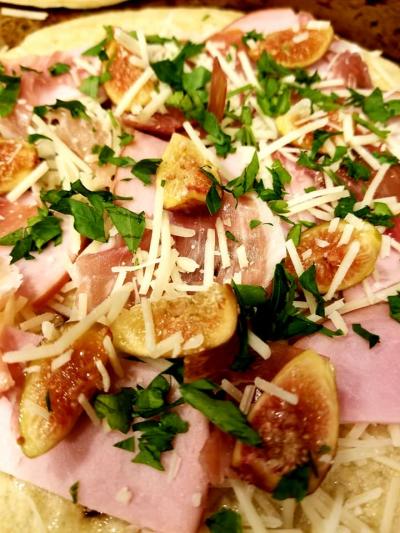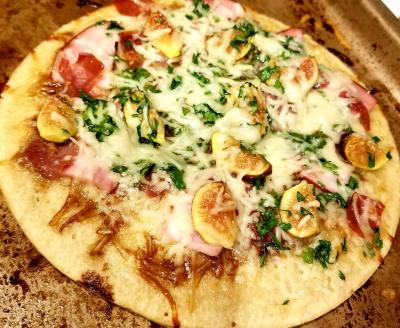 As our Tour de Fig comes to a close I have one more recipe for you.
Red Wine & Fig Reduction
Ingredients
(pork chops for searing before you make the sauce)
1 Tablespoon oil or pan drippings
1/2 shallot, minced
1 teaspoon thyme
1/2 cup good quality red wine (Merlot works well)
1 cup beef stock
About a dozen fresh figs
1 Tablespoon butter
Instructions
So the first thing you need to do is cook the pork.  I recommend seasoning with salt and pepper.  Sear on both sides in a hot cast iron skillet then transfer to 425 degree oven for about 20-30 minutes until meat thermometer reads the internal temperature anywhere from 145-160 degrees.

Taken from www.pork.org ...like that's a legitimate website...I have mixed feelings about this.
Now that your pork chops are done, remove them from the skillet and place them on a baking pan and tent with foil so they won't get cold.  Place skillet over medium heat and add oil or use pan drippings.  Add the shallot and saute until it begins to soften, about 2-3 minutes.
Pour in the wine.  Simmer until it is reduced by half, about 5-6 minutes.
Add the stock and thyme to the pan and continue to simmer until the mixture reduces by about two-thirds or until there are bubbles across the entire surface of the pan.
Place half the figs in a food processor and puree.  Add puree and remaining quartered figs to pan and stir well to combine.  Simmer about 30 seconds more.
You can either spoon the reduction sauce over the pork, OR because this is Louisiana and we like to smother our meats in the south, you can add the pork chops back to the skillet and let the sauce coat them.
I served my pork chops with roasted brussel sprouts and baked sweet potatoes.
Whelp that's all folks...hope you've enjoyed this little journey of the humble fig.  Pro-tip:  since figs have a short season, you can freeze them for use throughout the year.  Keep the stems on them, wash, allow to dry, and spread in a single layer on a cookie sheet that you've lined with wax paper and freeze.   Once figs are frozen  transfer into a zip-loc freezer safe bag.  When you're ready to thaw, simply take as many as you need and let sit at room temp for about 30 minutes to an hour.  BAM!  We're so extra.